LCI Resident Artist Samuel Overington

Samuel Overington regularly attends the London ContactImprovisation classes and jams, at MovingEast. He uses drawing to explore the language of improvised movement. Samuel's drawings are markings of both movement and form. He uses marking as a means to draw the correlations of line, volume andgesture within Contact Improvisation, and questions how these relate to a language - Contact Improvisation. His drawing are the quick markings made by following an improviser or duet in contact that are suggestive of the human form and movement.He has been involved with dance companies and collectives (Janis Claxton Dance, London Contact Improvisation) workshops (Emerging Forms with Lotti Nichols, University of Northampton) and festivals (London New Years Jam, Bristol National Jams, Contact City). During Contact City, he ran a workshop exploring drawing and Contact Improvisation. Works from the Lingua franca have been exhibited at Centrespace Gallery, APT and Mile End Art Pavilion.He has been artist-in-residence with Edinburough based Janis Claxton Dance on four occasions, during rehearsal or research and development periods including Humanimalia, a national touring performance.

Powered by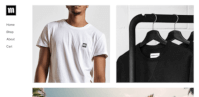 Create your own unique website with customizable templates.